Natural parks offer a great opportunity to learn about your surroundings while doing low-impact sports and active tourism or discovering flora and fauna in exceptional landscapes. Sorteny Natural Park is one of the three natural parks you can visit in Andorra. It has been a protected space of over 1,000 hectares in Ordino since 1999 and became the core area of the parish's biosphere reserve in October 2020. After more than 20 years as a protected area, it is now one of the richest sites for flora and plant species in the Andorran Pyrenees.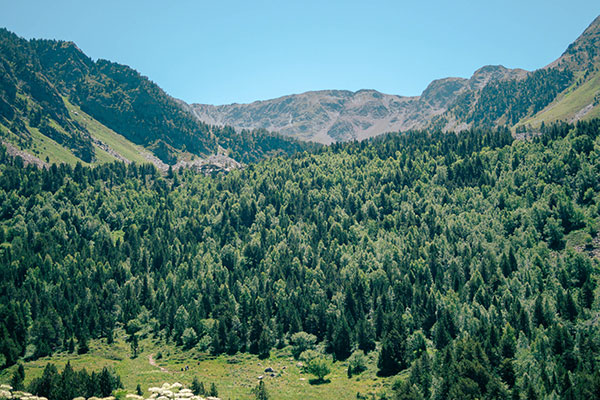 What to do in Sorteny Natural Park
Mountain trails: Sorteny is a good natural area for exploring the mountains with the family. In the natural park there are signposted mountain trails that children can walk with no difficulty. Several routes can be done without a guide and one of the most popular short hikes leaves the natural park's car park and takes some 30 minutes to reach the Sorteny refuge. There is a small route around the refuge area for discovering the different landscapes (meadows, forest, rivers, etc.) and rich biodiversity that the park has to offer. 20 minutes from the refuge, you can visit the Grau de la Llosa Viewpoint, which affords some beautiful views of the valley. If you prefer a more personalised experience, you can always go with a mountain guide.
Grandvalira Mountain Guides offer individual or family themed-based mountain excursions upon which to explore nature or even do mountain sports.
Discover the fauna and flora of the Pyrenees: In Sorteny, you can't avoid talk of hiking, not to mention its biodiversity. It has over 800 species of flowers and plants, of which 50 of its endemic species are endangered. On your visit, you will come across several information panels on the animals and plants you can see around you. At Sorteny you can also visit a botanical garden that covers an area of 800 m2 and has some 300 species of flora, which are classified according to their habitats. Chamois, deer, stoats and marmots are some of the most common animals in the area, as well as the Pyrenean brook salamander and Aurelio's Rock Lizard. With a bit of luck, you will see birds such as eagles, bearded vultures, capercaillies, partridges and vultures.
Gastronomy: The Sorteny refuge is not just a staffed refuge at which to take a break, but also a restaurant. This restaurant is at an altitude of 1,970 metres and offers a menu based on Andorran cuisine made with fresh, locally sourced ingredients. In summer its 120-m2 terrace outdoors is a key attraction. You can also take e-bike trips to Sorteny, upon which you can also enjoy delicious dishes in a unique setting. If you prefer making your own way, we recommend booking a table in advance to enjoy this experience.
How to get to Sorteny Natural Park
To reach the park by car, follow the CG-3 towards Ordino-Arcalís. After passing through the village of Serrat, turn right at the crossroads. In July and August, Sorteny can also be reached on public transport. National line L6 runs to Ordino from the centre of Andorra la Vella. Once in Ordino, take the parish bus to reach Sorteny.
Consult timetables, frequency and price on the Ordino parish website.
What to take to Sorteny Natural Park
Para pasar un día en montaña, es importante ir bien preparado, aunque se trate de una excursión de corta duración. El tiempo en la montaña puede cambiar rápidamente, por lo When spending a day in the mountains, you should go well prepared, even if the walk is short. The weather in the mountains can change quickly. We therefore recommend that you always wear comfortable shoes and clothes for hiking. You can take a backpack in which to keep something warm, a raincoat, sun cream, food and water, and a small, very basic first-aid kit.
And don't forget the rules of Sorteny Natural Park:
Respect the surrounding vegetation. Cutting or uprooting the park's plant species is not allowed, except for edible mushrooms and flowers for traditional use.
Do not discard litter or cigarette ends. As well as keeping the natural environment clean, avoid litter that could cause other disasters such as forest fires.
Dogs must be kept on a lead to prevent upsetting the other animals that live in the park.
Do not light fire.
No wild camping.
Riding motorcycles is not allowed.